Feedtrail Expands Partnership with Children's Hospital of Orange County (CHOC)
Feedtrail Expands Partnership with CHOC
Enterprise-wide rollout will include CHOC at Mission Hospital, CHOC Physician Network, and the launch of a reputation management program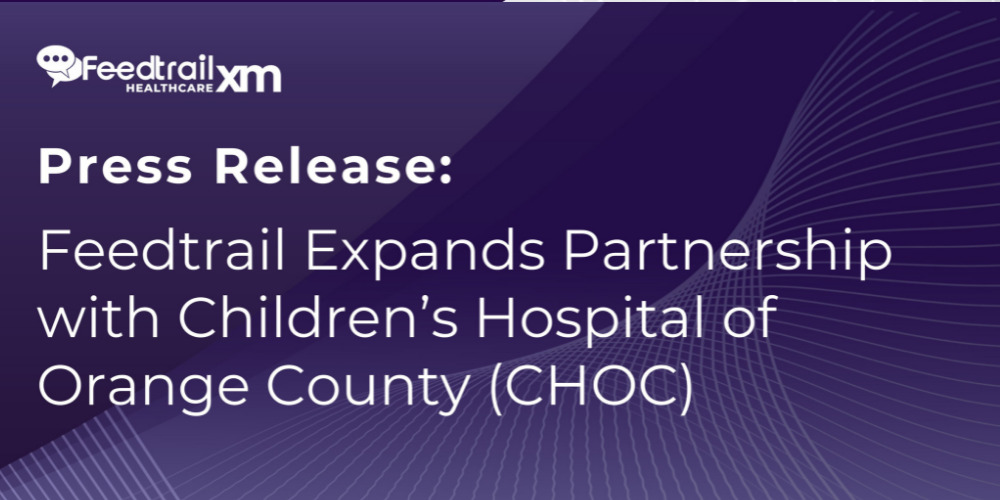 RALEIGH, NC (March 21, 2023) ‒ Feedtrail, the healthcare industry's leading experience management technology provider, has expanded its partnership with Children's Hospital of Orange County (CHOC) to be enterprise-wide. The expansion will leverage the patient experience application and the implementation of Feedtrail's reputation management module and flexible messaging functionality. 
Since the deployment of Feedtrail's XM platform in February 2022 in three areas of the hospital, CHOC has created more digital "touchpoints" to engage patients and their families and incorporate their voices across the continuum of care. Hospital administrators receive and relay instant, text-based patient and family feedback, personalized to the patient's unique background and point in their patient journey. In the emergency department, one of the initial focus areas, the organization drastically increased feedback volume and leveraged actionable quantitative and qualitative data to improve their Net Promoter Score (NPS) by an impressive 54 points during the last five months. 
"We have worked with CHOC on a blueprint that should become an industry standard for effectively engaging patients and their families," said Feedtrail Chief Executive Officer Stephanie Alexander. "The underlying technology will now be used to support clinical morale and retention – an area we and our clients are prioritizing in 2023 – and having CHOC's trust to expand the platform enterprise-wide is validation of our work together." 
CHOC will introduce the Feedtrail patient experience ("PX") platform to CHOC at Mission Hospital and the CHOC Physician Network. The organization will utilize Feedtrail's leading reputation management solution as a way to further enhance their online reputation and reinforce positive comments from patients and families. 
"We have found that having an engaged, emotionally supported staff reverberates across the organization and allows us to go above and beyond for our patients," said CHOC Manager, Patient and Family Experience Kat Burton. "Partnering with Feedtrail has given us a real-time barometer for the patient experience across multiple departments and a 360-degree approach to incorporating feedback from families and caregivers into our workflow. There are so many wholesome moments that happen in our facilities between clinicians and patients that need to be celebrated, and that's why we're excited for this expansion." 

 
Both CHOC and Feedtrail will deliver a joint presentation at The Beryl Institute's ELEVATE PX Conference on March 28, 2023 in Dallas, Texas, "Reinventing the Patient Experience to Drive Loyalty – Personalizing Patient and Family Engagement Throughout the Healthcare Journey: How, When, and Why." During the session, Burton will walk through how CHOC identified gaps in their understanding of patient and family experiences and implemented programs to personalize outreach, improve access to actionable data, and engage physicians to drive adoption and gain buy-in for the enterprise implementation.  
About Feedtrail 
With Feedtrail XM, healthcare organizations can learn and deliver what matters most to patients, providers, caregivers, and employees. Our secure, cloud-based experience management (XM) solutions and advanced data analytics enable customer experience teams to engage and connect with the right people at the right time, uncover prescriptive insights, and take purposeful action to drive continuous improvement and measurable results across the lifecycle of care. Over 100 innovative health systems across 5,000 sites in 40 countries already use Feedtrail to uncover explicit opportunities to improve human-centered care and advance better outcomes for people and the business of healthcare. Learn more at www.feedtrail.com.