Improving Patient Experience with Physician Care
Build your brand, bottom line and improve physician patient satisfaction scores
Improving Patient Experience with Physician Care
Timely engagement and constructive criticism are key when it comes to improving overall patient experience with physician care. Physician practices can leverage the power of patient satisfaction feedback to build their public reputation, outpace their competitors, and boost their bottom lines.
Feedtrail can optimize physician patient outreach and generate valuable patient feedback. We connect with patients through surveys, messages, and updates to guide care, direct improvements, and share criticisms and kudos alike with physicians and staff members.






Share Patient Kudos with Staff


Collect Provider-Specific Feedback
Optimizing Your Business Outcomes & Improving Physician Patient Satisfaction with Feedtrail
Boosting physician patient satisfaction has its roots in understanding patient experience with physician care. With this in mind, Feedtrail can put you on the road to a higher Net Promoter Score (NPS) and all of the practice benefits that accompany it.
In addition to helping you secure an outstanding NPS, Feedtrail can help you retain patients, inspire positive social media reviews, collect specific feedback, share this feedback with staff, and generate more revenue for your practice while promoting a healthy and happy work environment.
Physician Practices: Find and Fix the Experience Gaps Along the Patient Journey
When a prospective patient is considering your physician practice to meet their medical needs, they will want to know that they will be in good hands throughout their clinical and consumer journey. Let Feedtrail guide each patient through every step of the path, from pre-visit booking to post-visit advocacy.
While they wait for their scheduled visit time to arrive, Feedtrail reaches out to help patients set expectations by providing appointment outreach, virtual check-in, and telehealth login while performing mass marketing functions and asking for feedback on the booking process.
During the office visit itself, Feedtrail manages physician patient expectations and optimizes patient experience by offering a warm welcome message, providing information about patient arrival and wait processes, facilitating direct provider communication, and allowing patients to supply pre-discharge feedback.
After the office visit, Feedtrail strives to exceed patient expectations through care reminders, next-step messaging, and encouraging patients to leave positive reviews on social media and offer kudos to specific practice clinicians through the Feedtrail system.
Feedtrails post-visit outreach has proven effective at driving patient retention, establishing long-term patient relationships, and boosting new consumer leads through targeted patient advocacy.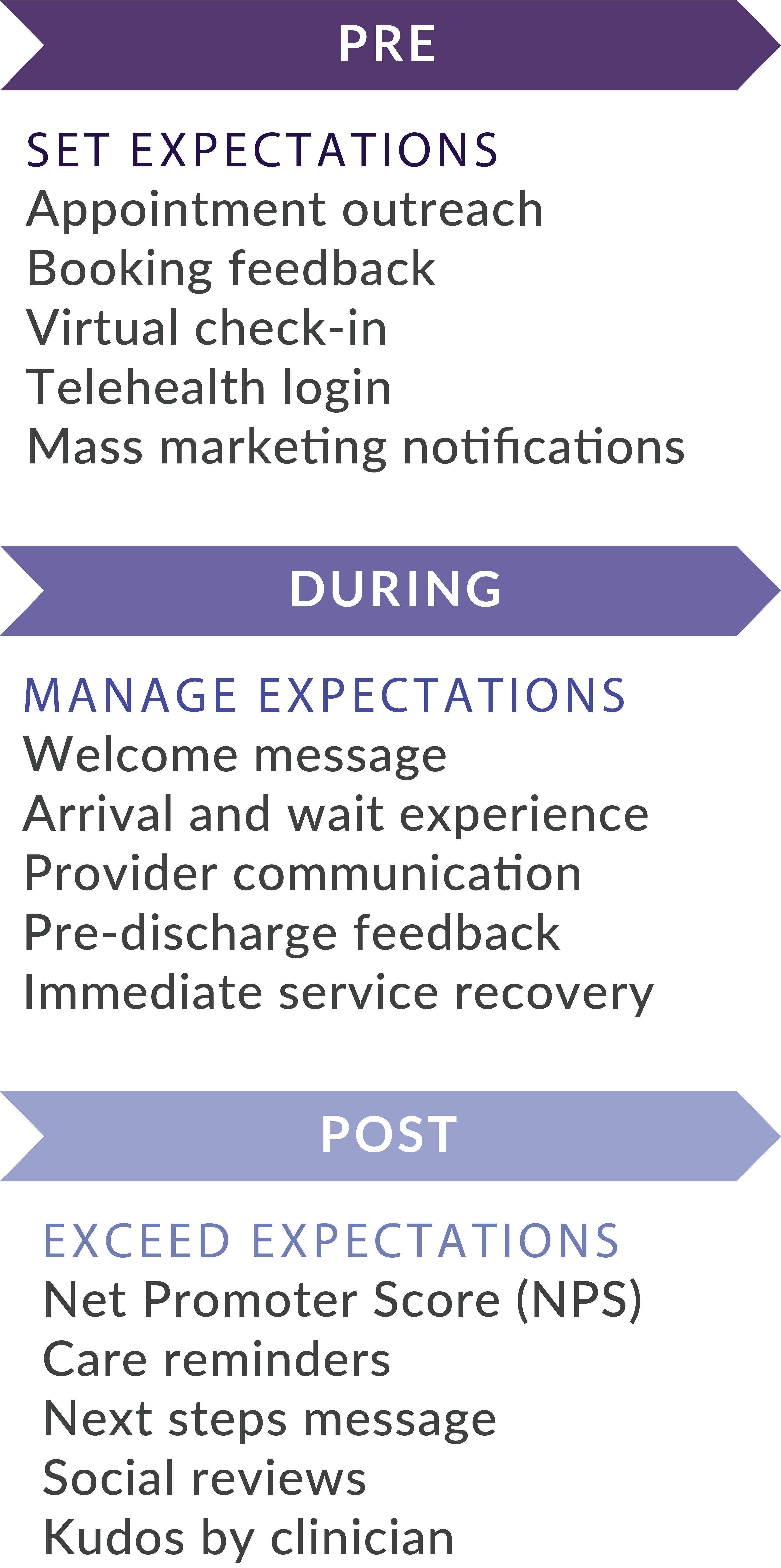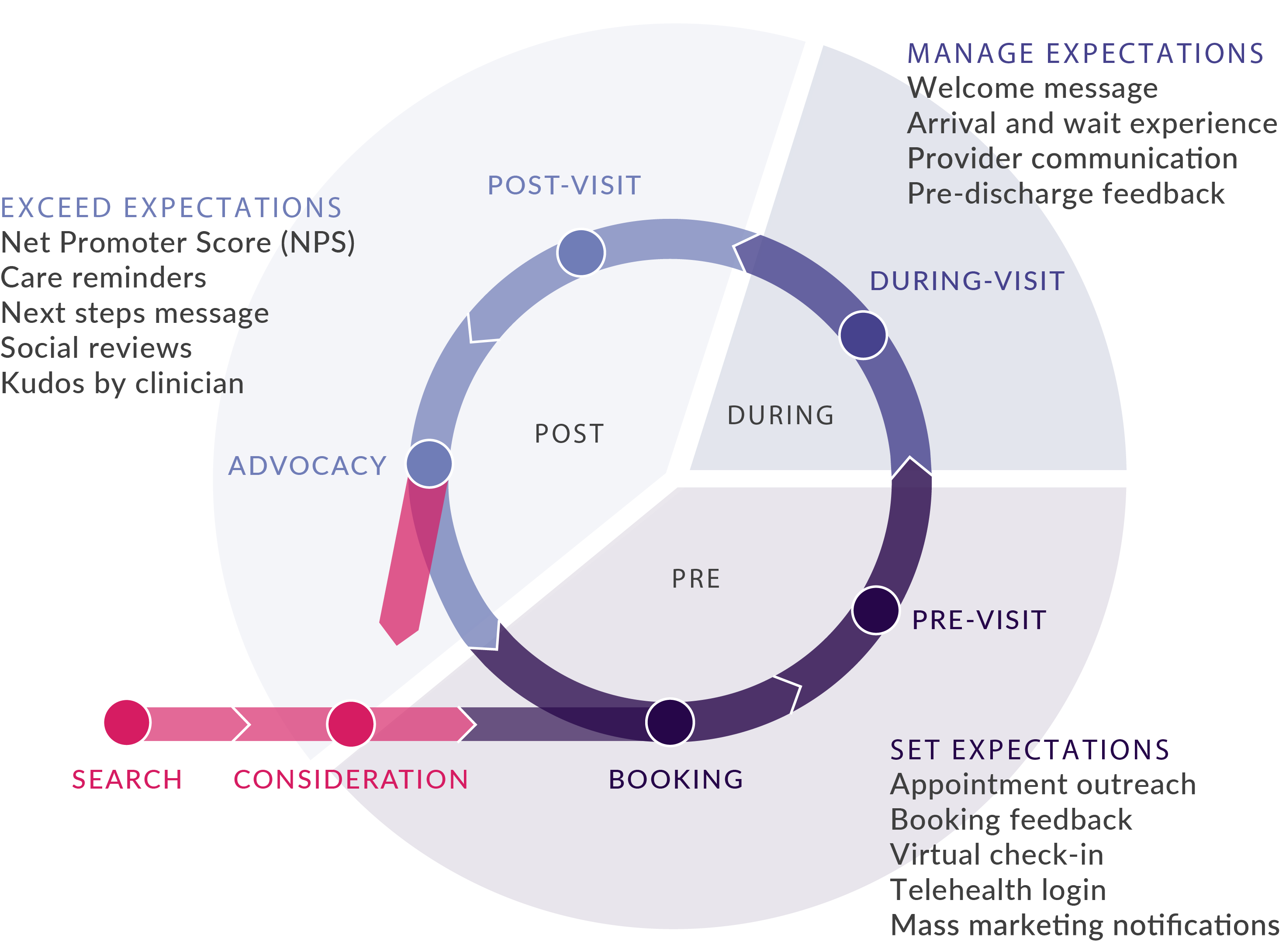 Leverage real-time surveying with actionable insights to optimize your business at a price point that will surprise you.


What does a flexible platform provide?
Millennium Physician Group recovered over 5,000 canceled appointments in two weeks using Feedtrail for outreach post-Covid.


How could you improve loyalty with real-time data?
A large imaging center was able to raise their Net Promoter Score (NPS) from 75 to 92 in less than a year with Feedtrail by learning from deeper insights.


What happens when you connect Feedtrail to social reviews?
Texas Tech Physicians switched from a traditional CAHPS vendor, where they averaged 4 reviews/month. With Feedtrail they added 400+ 5-star Google Reviews in five months and average 158 reviews/month.
Leverage positive patient feedback to improve clinician morale and reduce burnout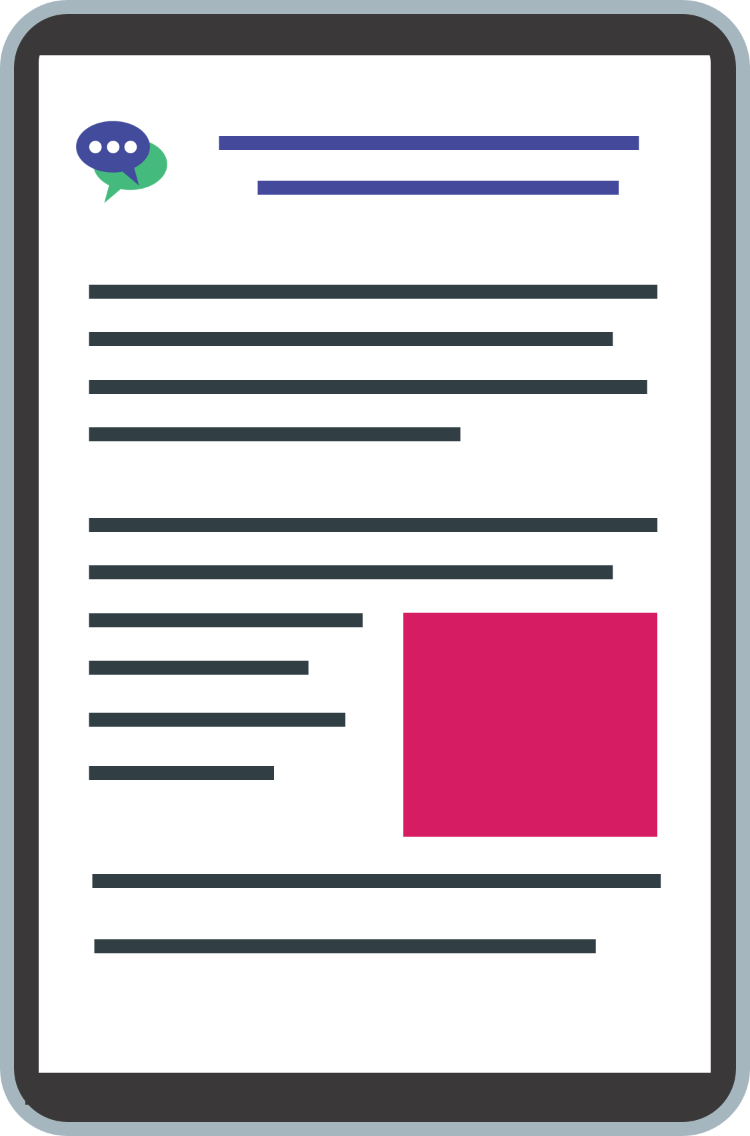 Beyond its benefits for patients and its ability to boost patient retention and new lead generation, Feedtrail is incredibly effective when it comes to improving clinician well-being and combating clinician burnout.
Feedtrail can help medical staff on both counts. The Feedtrail platform makes it incredibly easy for patients to immediately share thoughts of appreciation and gratitude directly with clinicians on an ongoing basis in the form of small messages called "kudos."
Feedtrail replaces cumbersome manual feedback processes with an automated real-time approach that is exceptionally user-friendly and requires little to no IT team intervention. Feedtrail even allows you to quickly and efficiently create aggregated reports of gratitude to share across different sites or departments.
To learn more about the ways that Feedtrail can help you battle clinician burnout and improve clinician retention, download your free guide.
Feedtrail Improves Physician Patient Satisfaction
When Feedtrail puts you on the road to better physician patient satisfaction, improved physician patient satisfaction puts you on the road to a more efficient, effective, and profitable physician practice. Partner with Feedtrail to become the next in a long line of customer success stories.


Hear best practices from Texas Tech Physicians and PartnerMD around leveraging patient feedback to battle the physician staffing and retention crisis and prevent burnout.
"Feedtrail helped us significantly increase our online reputation at our Surgery Center across several different platforms, including Google and Facebook. Our patients already knew of our best-in-class care and now the public does as well. Feedtrail has helped drive even more business through our doors."
Matthew Emig
Director of Marketing
Raleigh Ortho


Book a demo
Learn how the Feedtrail platform can adapt to your every need