Having come from the corporate world prior to starting Feedtrail, the concept of developing core values felt a bit taboo to me. I was jaded by the concept of listing out abstract, aspirational core values that often felt "forced" or "insincere" to the individuals who weren't involved in deciding on them. And for this reason, I wrongly resisted formally declaring our core values for the first two years. But as we began hiring outside of our founding team, it became apparent that we had nothing to fear in proclaiming our core values. We had accidentally established a set of values we were already adhering to, and that were already responsible for much of our success.
Before officially writing out our core values in permanent marker, I wanted to make sure they personified what we expected from ourselves and each other, serving as a constant guide for our actions and decision making. As a company focused on experience management, we're passionate about positive experiences—with our customers, within our customer organizations, and with each other. Like a Code of Conduct at a hospital, these principals help manage and align expectations, ensuring the team understands what's expected of them and signaling to our customers how they'll be treated. The following four core values came up consistently:
Deliver Exceptional Value
Seek Growth Opportunities

It wasn't until 2020 that our core values were truly put to the test. Like many CEOs, I was initially terrified that moving our entire team remote (indefinitely) would cause us to lose focus, lose momentum, and lose the connectedness that made building this company so fulfilling. But our team remained committed to challenging one another to adhere to the core values from day one. I'm fully convinced the reason we excelled as a company during the rollercoaster that was 2020 is due in large part to our team's commitment to living out our core values.
We wrapped up 2020 with Core Values Awards, recognizing employees that exemplified a core value throughout the year. Winners were nominated by their peers and celebrated at our January All Hands meeting. I have never been prouder to be associated with Feedtrail than when we were reviewing the nearly one hundred peer-nominations. It's easy to talk about building an effective company culture, but I can now say with absolute certainty that we did it. And as the various teams within our company grow, our product evolves, and our processes are forced to mature, I'm more confident than ever in the future of Feedtrail because I know we will continue to build a world-class company committed to embodying these four core values that have gotten us to this point. There isn't a day that goes by that I don't feel like the most fortunate CEO in the world to be surrounded by this great team.
"I'm extremely proud to recognize the winners of our 2020 Core Values Awards and share what the core value means to them."
Embrace Collaboration
We work as a team with each other and our clients, valuing input, unique perspectives, and new ideas. We know the best teams are those that collaborate harmoniously while challenging each other to think critically and from others' perspectives. We also encourage collaboration among our clients – offering ample opportunities for them to come together to brainstorm solutions to various challenges they are facing and share best practices and lessons learned as it relates to the patient experience.
2020 Embracing Collaboration Winner:
Delphis Vera, Head of Data Analytics and BI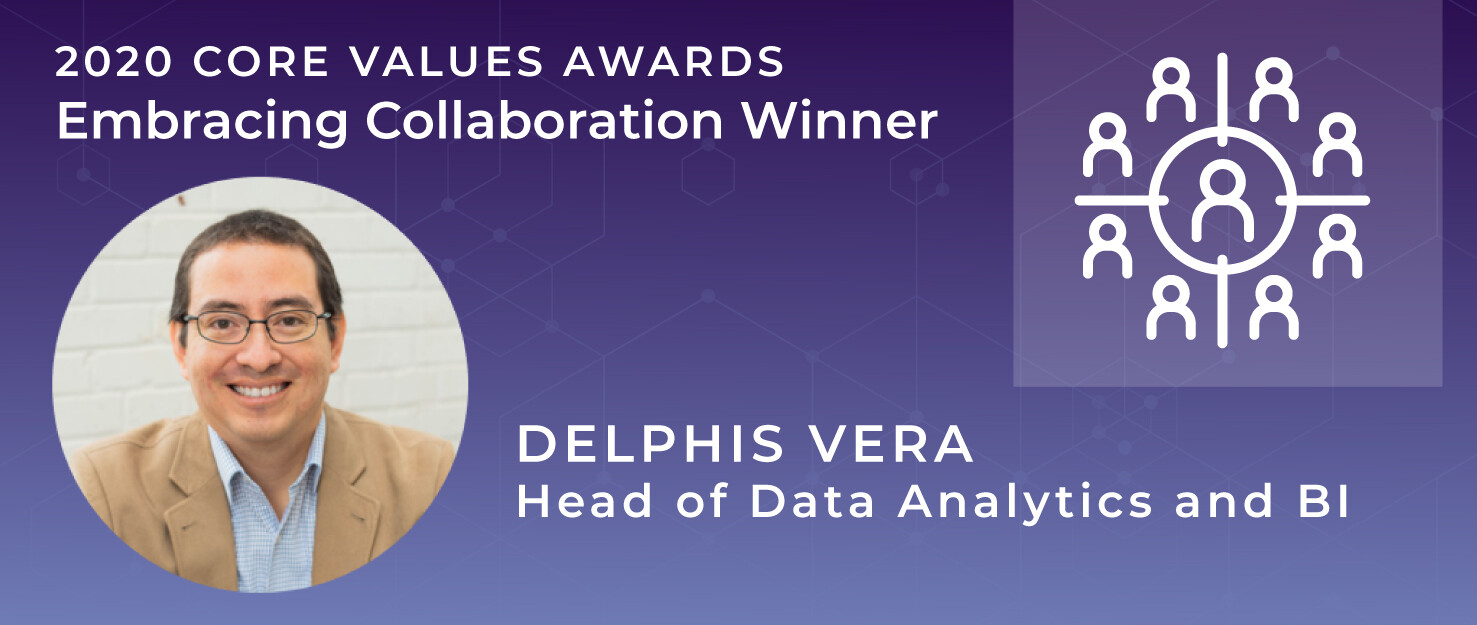 "This is what Embracing Collaboration means to me:
Being aligned, communicative, and committed to the task at hand through leading by example and promoting a "talk and listen" culture.
Being available to your teammates by giving them your time, your words, and your advice to help them achieve their goals. This creates a culture of helping and supporting each other.
Recognizing teammates publicly and privately for work well done. Sharing recognition can bring the team closer together while also reinforcing the right behaviors across collaborators.
Promoting accountability and ownership in every engagement with other teammates. This empowers team members to show professional solvency and deliver high-quality outputs at all times."
Deliver Exceptional Value
We always over-deliver with customer service, externally and internally, never settling for good enough. We understand that our customers are the lifeblood of our business so we put them at the center of every decision. If our team isn't "wowing" a customer or prospect, then we aren't doing our job… it's as simple as that.
2020 Delivering Exceptional Value Winner:
Sara Crow, Director, Strategic Accounts

"I am honored to have received Feedtrail's award for Delivering Exceptional Value, mostly because I am surrounded by an incredible team that accelerate and add to that value. I have the distinct opportunity to speak with some of the most innovative and thoughtful leaders in the healthcare industry daily. This gives me an understanding of what 'value' actually means to them, and with this understanding comes the responsibility to ensure their goals and expectations are being met and/or exceeded."
Seek Growth Opportunities
We keep learning and developing to ensure we're providing the best ideas, products, and services. We take on intimidating opportunities as often as possible, constantly challenging ourselves to progress and engage our customers to understand how we can improve and grow with them.
2020 Seeking Growth Opportunities Winner:
Sean Hess, Account Executive

"Seeking growth opportunities has always been a huge priority for me. Not only at Feedtrail, but my entire life. I truly believe it's the main priority for anyone wanting to further, not only their career but the success of the company and their colleagues. To me it means always pushing to be better – maybe that's seeking out a new book to change your perspective on a topic, or stepping outside of your role's job description to pick up the slack for those that need a helping hand. It's never saying 'no' when an opportunity presents itself, no matter how challenging the task may seem. It's never being content with the status quo!"
Prioritize Honesty
We strive to build open, authentic relationships – both internally and with our customers. We build trust by going the extra mile to ensure we're being thorough, transparent, and sincere in our actions and communication.
2020 Prioritizing Honesty Winner:
Andy Roth, Customer Success Manager

"Feedtrail's core value of Prioritizing Honesty is one of the main reasons I love working here. I believe honesty is vital to a healthy company's relationships, both internal and external. If those relationships aren't based on trust, then you're not going to be successful. There's no problem that can't be solved with an honest conversation, and there's no problem that can be solved without one. My customers and colleagues know that I'm going to tell them what I think, even if it's not what they want to hear. That doesn't mean I'm always right; it just means that my heart's in the right place."