RESEARCH TRIANGLE PARK, N.C. April 13, 2020
Feedtrail, real-time patient and employee feedback platform provider, in partnership with HOLLIBLU, an exclusive community and technology for nurses, announces the results of a new nationwide survey of nurses, giving voice to the emotional, physical, and mental toll of the COVID-19 crisis, and a first glimpse into the impact on patient care in its wake. According to survey data, the U.S. may be facing a mass exodus of nursing professionals, leading to an unprecedented shortage of nurses in the aftermath of the COVID-19 crisis. Of the 1,300 nurses surveyed, three out five are likely to leave their position or specialty as a result of their experience with the COVID-19 pandemic. Further data analysis shows that 67 percent of respondents will either leave their current facility or quit the industry altogether, and 3 percent of these nurses have already resigned.
"Nursing professionals nationwide were already experiencing burnout and subsequent turnover," said HOLLIBLU founder, Cara Lunsford, a former nurse for child cancer patients. "The COVID-19 pandemic is rapidly accelerating turnover among nurses, unlike anything we've ever seen. Now more than ever, they need support from their management to help limit the mental, emotional, and physical toll of supporting COVID-19. "
The financial implications are staggering. Further data analysis estimates the cost of a mass exodus of nurses in the wake of COVID-19 at $137B. The data also provides clear insights for healthcare organizations seeking to mitigate the risk of high rates of turnover among nurses. "These findings serve as a reminder about the necessity of giving voice to health professionals on the front lines of patient care, not only during this crisis, but also year round," said Paul Jaglowski, co-founder and CEO, Feedtrail. "Our mission at Feedtrail, from day one, has been to help healthcare organizations tap into the patient-and-employee experience, in real-time, to actively address potential near-term and longer-term issues, such as large-scale nurse turnover." Actively engaging the nursing community is just the beginning. Feedtrail wants to help organizations give voice to their community of health practitioners on the frontlines of this global pandemic. If you belong to a network of Physicians, PA's, Respiratory Therapists, etc. please contact us at US@Feedtrail.com to set up a secure, anonymous survey that can be live in a matter of hours. Together, we can #FlattentheCurve. For more insights and data, view the infographic: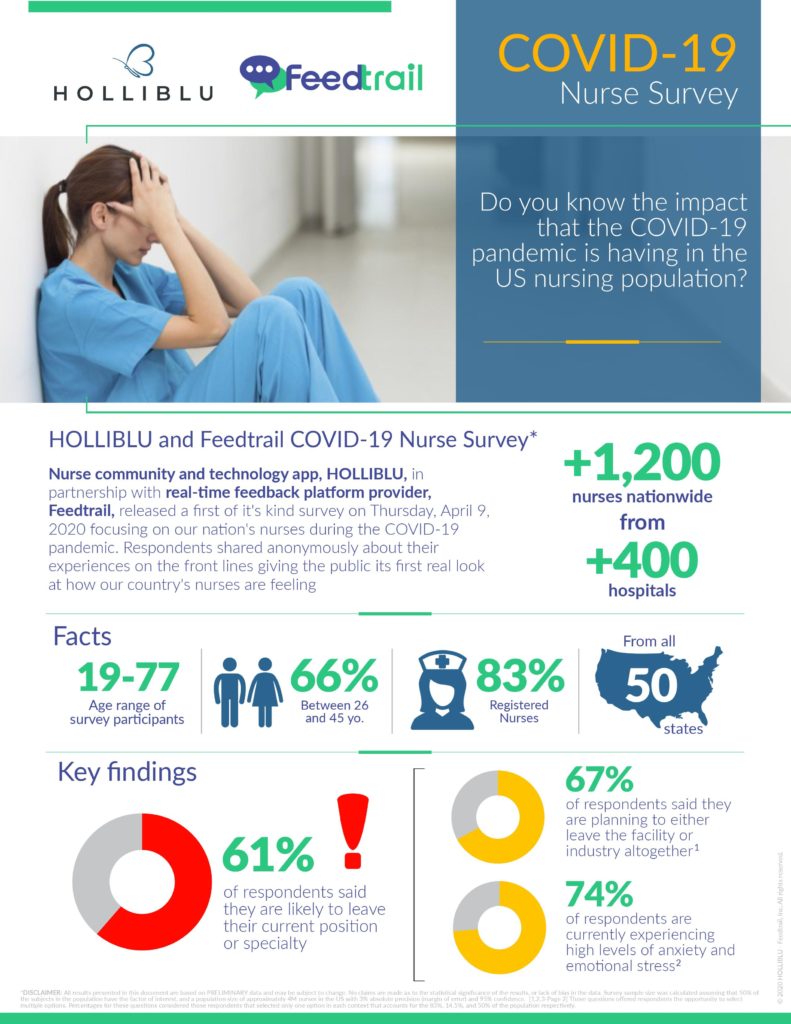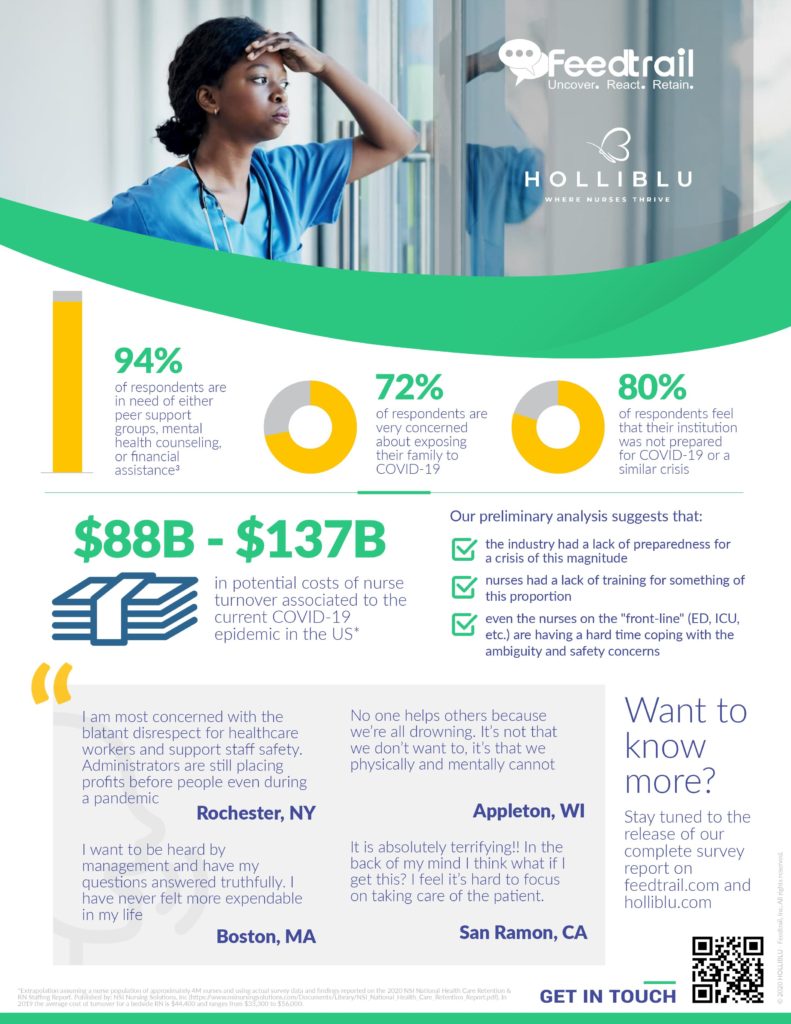 About HOLLIBLU
As a state-of-the-art nurse matching and recruitment technology, we help nurses to connect with professional opportunities, organize their professional life, restore their passion for nursing and empower them to thrive. We believe in a world where empowered nurses will transform the industry in which they serve.
About Feedtrail
Feedtrail helps healthcare organizations instantly measure the pulse of patients and employees. Our first-of-its kind, real-time patient-and-employee feedback platform automates the collection and analysis of data to surface actionable insights and identify opportunities for improving the patient-and-employee experience. We believe employee-and-patient satisfaction leads to better outcomes for patients, providers, and the entire healthcare ecosystem. Feedtrail is based in Raleigh, NC, with offices in Los Angeles, CA, and Helsinki, Finland, and serves more than 50+ health systems across 4,000 different sites in 14 different countries.To schedule a demo or learn more, visit us online at
https://www.feedtrail.com
 or email us at us@feedtrail.com.