Second nationwide survey highlighting the importance of enhancing nurse well-being
RESEARCH TRIANGLE PARK, N.C.  May 20, 2020
Feedtrail and HOLLIBLU release results from the second nationwide survey highlighting the importance of enhancing nurse well-being amid COVID-19 and beyond. The increasing prevalence of nurse burnout has led to skyrocketing rates of attrition and has recently worsened due to the COVID-19 crisis. As a result, mental health and the well-being of nurses has become a critical concern. That's why 
nurse community and technology app, HOLLIBLU, 
in partnership with 
real-time patient and clinician experience platform provider, Feedtrail, 
launched a 2nd nationwide "pulse" survey as part of #NursesWeek2020. In the first 24 hours alone, we received more than 1,000 responses from nurses across all 50 states! Our analysis of the survey results provides healthcare systems with the actionable insights they need to address these concerns and support patient care professionals in the wake of COVID-19 and
beyond
.
Key findings of the second survey were staggering:
61% reported still wanting to leave the industry all together as a result of their experiences during the COVID-19 crisis
46% of respondents said they ARE likely to leave their current position or specialty
50% of respondents reported experiencing high levels of anxiety and emotional stress
According to these nurses, this significantly manifests into secondary symptoms such as inability to concentrate and feeling distracted
100% of healthcare HR leaders agree that improving employee engagement in order to increase patient satisfaction is a TOP PRIORITY.
If you want your organization to deliver high-quality care post COVID-19, you must keep both nurses AND clinicians 
engaged
 and 
feeling supported
. In order to do so, organizations have to be mindful of what they actually need; healthcare leaders must understand the pulse of their healthcare employees so they can be prepared to keep caregivers satisfied and supported to ensure they are delivering the highest quality care possible. For more insights and results related to clinician support and engagement, see infographic: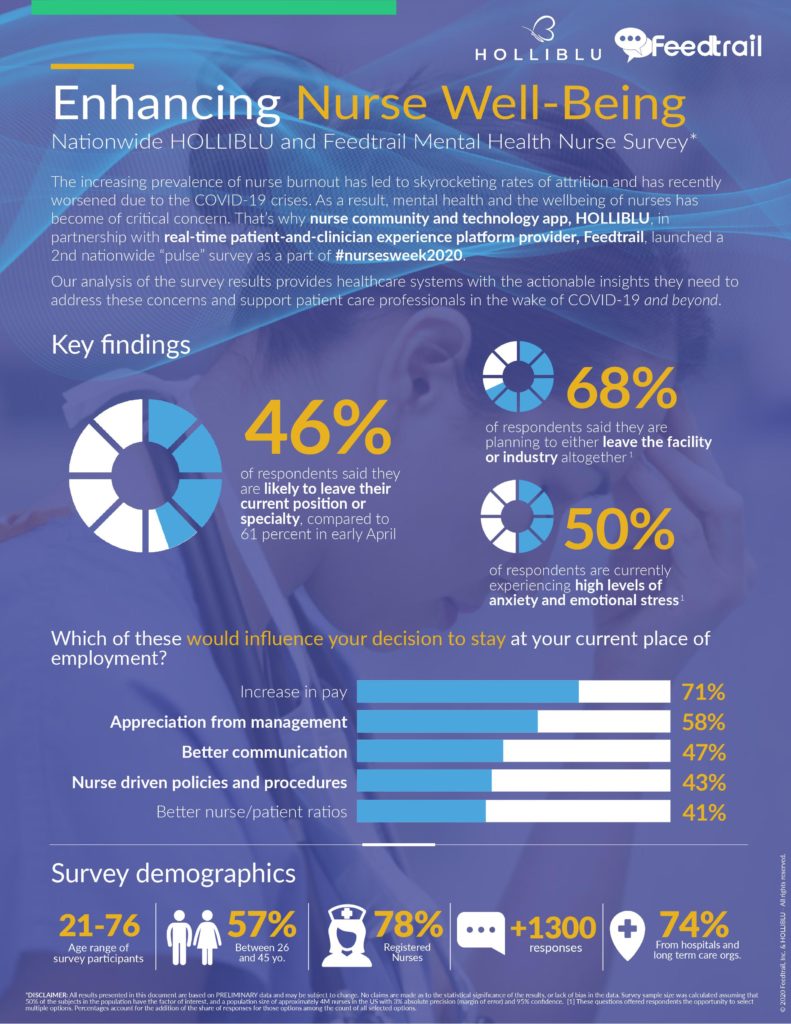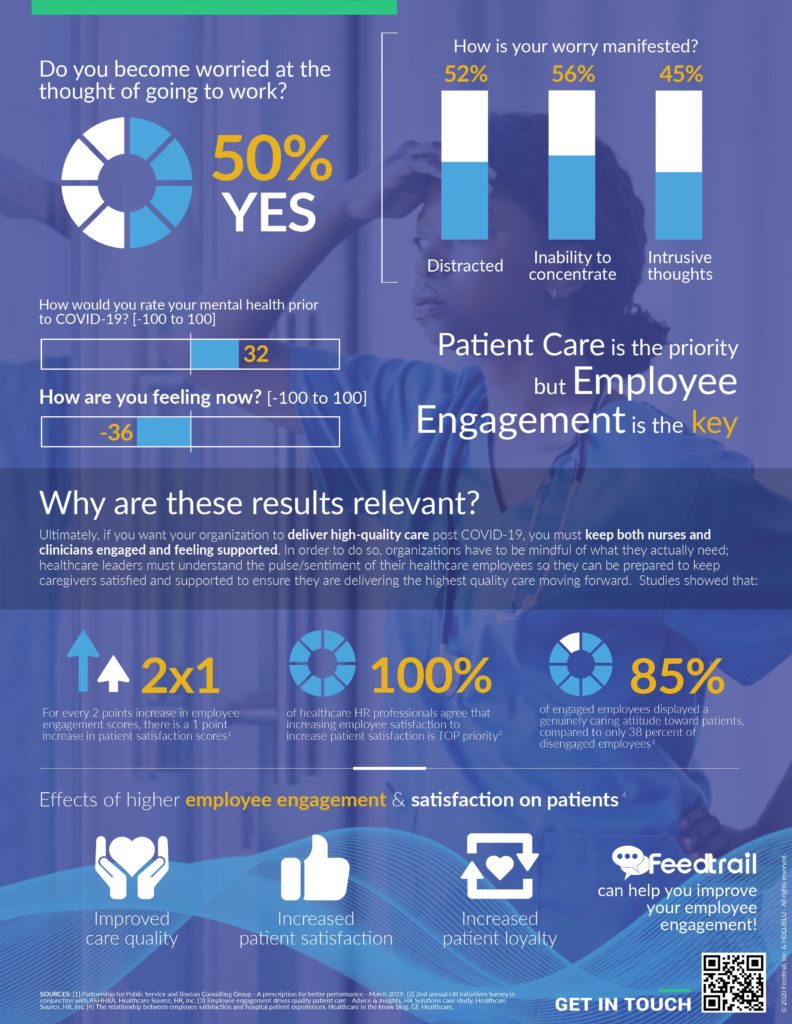 About HOLLIBLU
As a state-of-the-art nurse matching and recruitment technology, we help nurses to connect with professional opportunities, organize their professional life, restore their passion for nursing and empower them to thrive. We believe in a world where empowered nurses will transform the industry in which they serve.
About Feedtrail
Feedtrail helps healthcare organizations instantly measure the pulse of patients and employees. Our first of its kind, real-time patient and clinician experience platform automates the collection and analysis of data to surface actionable insights and identify opportunities for improving the patient-and-clinician experience. We believe employee-and-patient satisfaction leads to better outcomes for patients, providers, and the entire healthcare ecosystem. Feedtrail is based in Raleigh, NC, with offices in Los Angeles, CA, and Helsinki, Finland, and serves more than 50+ health systems across 4,000 different sites in 14 different countries. To schedule a demo or learn more email us at us@feedtrail.com.